Beautiful Power that Protects
Unleash the power of your roof with solar roofing. Choose a beautiful and durable roofing solution from a San Jose, California manufacturing line.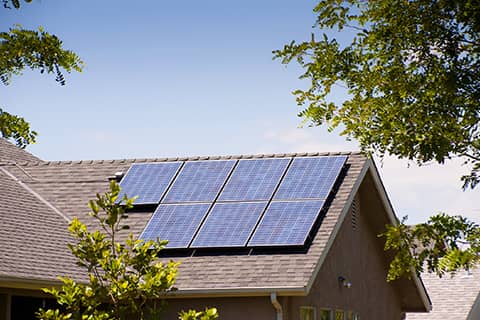 It's easier than ever to go solar.
As part of an elegant solar roofing system, Timberline SolarTM from GAF Energy features the world's first nailable solar shingle. With one installation. One project. One industry-leading warranty, Timberline SolarTM roofs are both strong and attractive, and they generate clean energy. A solar roof can be installed by our GAF-certified roofing contractors.
Reap The Rewards of Going Solar
Energy Savings
Invest in a solar roof from GAF Energy to save money on electricity. Timberline Solar™ produces clean electricity at a cost that's lower than what your utility company charges. With savings on your electric bill and government incentives, Timberline SolarTM will pay for itself.
Built-in Protection
Your new solar roof is installed securely by a GAF-certified roofing contractor, ensuring lasting durability. Our GAF-certified contractors offer comprehensive warranties.
Innovation
For superior water-shedding qualities, Timberline Solar™incorporates efficient solar technology inside durable shingles.
Installing a Solar Roof: Next Steps
Produce clean energy right on your roof with GAF Energy solar roofing.
Phase 1: Design and Permitting
We finalize the solar roof design. We take photos and take measurements. Not only that, but we obtain local utility approval for installation, if necessary.
We arrange all permits for the secure installation of your new solar roof. Once necessary approvals have been received, installation can be scheduled at your earliest convenience.
Phase 2: Installation
The delivery truck will be arranged to deliver the materials to your home. Depending on the size of the roofing project, a debris bin may also arrive at the same time for the start of the installation of your new roof. Our roofers will tear off your old roof and install a new one with Timberline Solar™.
We will be partnering with a local electrician for the installation of your new solar roof. To install the solar components properly, the electrician will need access to your main service electrical panel and possibly to yo your attack, garage, or other rooms of your home to access the electrical.
Phase 3: Inspection and System Activation
Once the solar roof installation has been completed, an inspection by the local authorities will be done to ensure the new solar roof is reviewed and passes the inspection.
A request is submitted to your local utility to approve activation. You will receive an email notification from your local utility company when the system is ready for activation. The notification will be titled "Permission to Operate" or "PTO". The process can be lengthy — timing varies by the utility company. It can take up to four weeks for customers to receive permission to operate after the final inspection.
As soon as you receive the PTO notice, we will email you specific instructions for how to turn on your system. The process is straightforward. Congratulations, your solar roof is now operational.
Solar power can be added to a home's roof without compromising its aesthetics. Get a great-looking roof, a single GAF warranty, and solar energy. Investing in a home is no small matter – and the way it looks matters. In addition to blending in with the aesthetic of a house, Timberline Solar™ includes features like architectural shingles that enhance the visual appeal.
Schedule a Consultation Today.
The Titan Contractors team strives to exceed homeowners' expectations in terms of roofing reliability as well as aesthetics. Get your solar roofing project started today and reap the benefits of going solar. Book a consultation. Call (817) 473-7663 today to learn more about our roofing services.