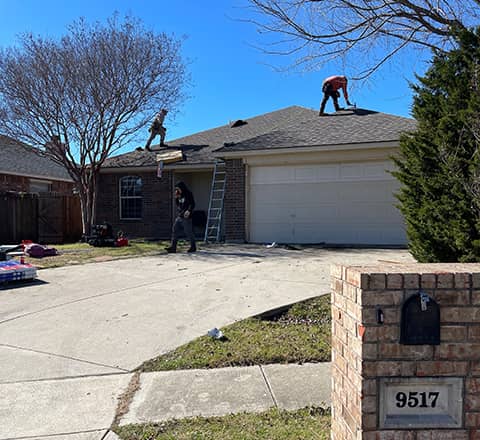 Residential Roofs
As a homeowner, you need a roof that is both durable and attractive. That's where we come in. With over 20 years of experience, we have the expertise to provide you with the best possible solutions for your roofing needs.
Hire us for your residential roofing needs, and you'll get access to a team of highly trained and skilled professionals who are committed to delivering exceptional results. We use only the highest quality materials and the latest techniques to ensure that your roof will last for many years to come. Here's what we can do for you:
Residential Roofing Services:
Roof Installation: We offer top-of-the-line residential roofs for new home construction or home remodeling projects. Our roofs are durable, energy-efficient, and come in a variety of styles and colors to complement any home design.
Roof Repair: If your roof is damaged due to hail, wind, or other weather conditions, we can repair it quickly and efficiently. Our team of experts will diagnose the problem and provide you with the most cost-effective and long-lasting solution.
Roof Replacement: If your roof is beyond repair, we can replace it with a new, high-quality roof that will provide you with superior protection for your home.
Maintenance: Regular maintenance is essential to extend the lifespan of your roof. We provide annual inspections, cleaning, and other services to ensure that your roof remains in top condition.
Why Choose Us?
Quality Materials: We only use the best quality roofing materials available in the market, ensuring long-lasting and efficient residential roofs.
Professional Staff: Our team of experienced and certified professionals is dedicated to providing quality services, ensuring satisfaction, and a job well done.
Customer Satisfaction: Our primary objective is to ensure customer satisfaction, and we take pride in delivering top-notch roofing solutions to our clients.
Affordable Pricing: We offer our roofing services at reasonable prices without compromising on quality.
Contact Us
If you're looking for a contractor that has years of experience in residential roofs, call us at (817) 473-7663, and we'll provide you with a free estimate. You can also email us at info@therooftitan.com, and we'll get back to you promptly. Trust us to provide you with the best residential roofing solutions that meet your needs and exceed your expectations.