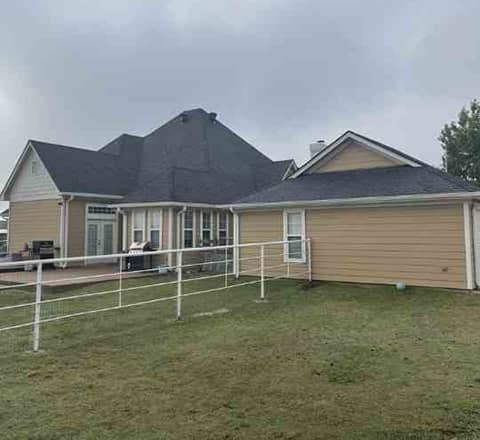 Residential Vinyl Siding Solutions by Titan Contractors
If you're looking to improve the exterior of your home, vinyl siding is an excellent option. At Titan Contractors, we provide residential vinyl siding solutions that can enhance your home's curb appeal, protect it from harsh weather conditions, and increase its overall value.
Our Residential Vinyl Siding Services
We offer a range of vinyl siding services, including:
Vinyl siding installation: Our team of experts can install vinyl siding on your home quickly and efficiently, ensuring that it's done correctly the first time. We offer a variety of colors and styles to choose from to match your home's existing aesthetic.
Vinyl siding repair: If your vinyl siding is damaged, we can repair it to ensure that your home remains protected from the elements.
Vinyl siding replacement: If your existing vinyl siding is outdated or in poor condition, we can replace it with new, high-quality vinyl siding that will last for years to come.
Benefits of Vinyl Siding
Vinyl siding offers a range of benefits for homeowners, including:
Durability: Vinyl siding is a durable material that can withstand harsh weather conditions such as high winds, rain, and hail.
Low maintenance: Unlike other siding materials, vinyl siding is low maintenance and doesn't require painting or staining. It only needs occasional cleaning to keep it looking like new.
Energy efficiency: Vinyl siding can help reduce your energy bills by providing better insulation for your home, which keeps it cooler in the summer and warmer in the winter.
Improved curb appeal: With a variety of colors and styles to choose from, vinyl siding can enhance the curb appeal of your home and increase its overall value.
At Titan Contractors, we're committed to providing our customers with the highest quality residential vinyl siding solutions. Our experienced team of professionals is dedicated to ensuring that your vinyl siding is installed correctly and that it lasts for years to come.
Contact Us
If you're interested in our residential vinyl siding services or have any questions, please don't hesitate to contact us at (817) 473-7663 or email us at info@therooftitan.com. We look forward to hearing from you and helping you enhance the exterior of your home.