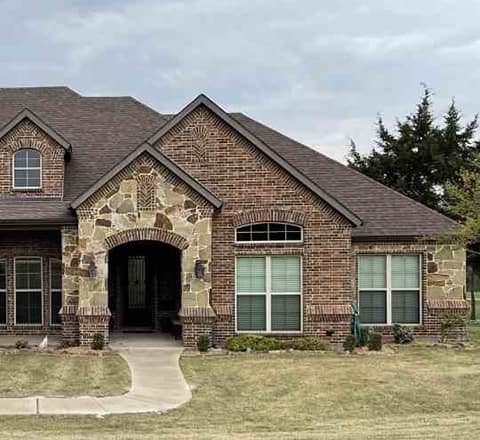 Residential Roofing Services and New Construction by Titan Contractors
At Titan Contractors, we understand that your home is your most significant investment, and we take that responsibility seriously. Our team of experienced professionals is committed to delivering superior craftsmanship, exceptional value, and unparalleled service to our clients in Midlothian, TX, and the surrounding areas. Whether you need roofing repairs, new construction, or remodeling services, we have the expertise and resources to meet your needs.
Our Residential Services
Our team specializes in a wide range of residential new construction and roofing services, including:
Residential Roofing: We offer a variety of roofing materials and styles, including asphalt shingles, metal roofing, tile, and more.
Vinyl Siding: Our experts can help you choose the best siding to match your home's style and increase its value and curb appeal.
Gutters: We install and repair gutters to help protect your home's foundation from water damage.
Windows: We offer a wide selection of energy-efficient windows to help you save money on your energy bills.
New Home Construction: Our team can help you bring your dream home to life with our expert new home construction services.
Home Remodeling: We can help you transform your existing home with our expert home remodeling services, from kitchen and bathroom remodels to home additions and more.
Home Renovations: Our experts can help you upgrade your home's interior and exterior with our home renovation services, including painting, flooring, and more.
Why Choose Us for Your Residential New Construction and Roofing Needs?
When you choose Titan Contractors for your residential new construction and roofing needs, you can expect:
Professional, reliable service from experienced professionals
High-quality materials and workmanship
Competitive pricing and flexible financing options
Unparalleled customer service and support
Complete satisfaction with your project from start to finish
Contact Us Today
Ready to take your home to the next level? Contact Titan Contractors today at (817) 473-7663 or info@therooftitan.com to schedule a consultation with one of our experts. We look forward to helping you transform your home into the space of your dreams with our residential roofing and new construction services.